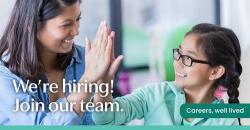 Speech-Language Pathologist
Featured
2022-11-16 Pediatric Partners, now part of Sevita 3060 Frontier Way S Sign On Bonus: Up to 10K and may be eligible for student loan repayment program
Description:
Pediatric Partners is now part of the Sevita family!
We are growing! Sign-on bonus up to 10k!
May be eligible for student loan repayment program. No Weekends!

Pediatric Partners, a member of the Sevita family is looking for a knowledgeable, experience, and dedicated individuals to join our Fargo Speech-Language Therapy Team! We are seeking full-time, part-time and per diem Pediatric Speech-Language Therapist Candidates!

We offer outpatient therapy in a unique fashion that both patients and therapists love. Our clinic offers private treatment rooms, motor and sensory gyms, and a heated therapy pool. Therapists may also see patients in their natural home or daycare environments to help them meet their goals.
Speech-Language Pathologist responsibilities include:
Review hearing or speech and language test results, barium swallow results, or medical or background information to diagnose and plan treatment for speech, language, fluency, voice or swallowing disorders
Administer speech and language evaluations tests, or examinations to patients to collect information on type and degree of impairments, using written or oral tests or special instruments
Write reports and maintain proper documentation of information, such as patient billing records or caseload activities, including the initial evaluation, treatment, progress, and discharge of clients
Develop or implement treatment plans for problems such as stuttering, delayed language, swallowing disorders, or inappropriate pitch or harsh voice problems, based on own assessments and recommendations of physicians, psychologists, or social workers
Plan, organize, and conduct speech, language, feeding therapy sessions in home, school, or community settings with pediatric patients and coordinate speech-language therapy with other therapeutic activities
Select activities that will help pediatric patients learn activities of daily living within limits of their mental and physical capabilities
Educate and train a patient's family and caregivers about how to accommodate and care for their patient
Evaluate a patient's home, daycare, or school environment and identify how it can be better suited to the patient's needs and capabilities
The ideal candidate for this position has the following:
Master of Science/Master of Arts in Speech-Language Pathology from an accredited university
North Dakota Speech-Language Pathology license required by all SLP's
Minnesota Speech-Language Pathology license may be required for all full-time and per diem therapists after hire
Why Join Us?
Full compensation/benefits package after 30+ hrs/week
401(k) with company match
Paid time off, holiday pay, sick pay
Enjoy job security with nationwide career development and advancement opportunities
Do not contact this company in solicitation of any product or service.